TYPES OF HANDS
1. SQUARE HAND:
This type of hand height and width is equal. the fingers of this hand is square or circular. It is useful hand : will execute well other people's orders or idea.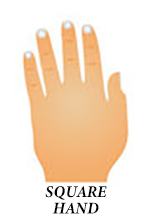 2. SPATULATE HAND
The shape of this type of hand is rice spoon. the width of this hand is very small. This type of hand is very hard working person. The finger tips is same as palm.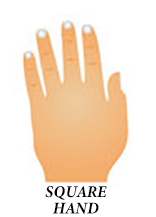 3. KNOTTY HAND
The palm rather large and well developed, but bony: both knots well marked in the fingers. The Thumb large and indicated the presence of as much logic as will -power.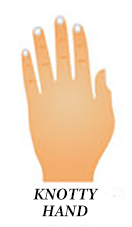 4. CONICAL HAND
This type of hand is very good for native. This type of hand width is small. The fingers of his palm are conical shape. the fingers whose nailed Phalanges assume the from of cones. This type of hand is artistic hand.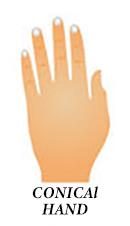 5. ELEMENTARY HAND
The knots, and we reach inferior grades of Hands, all deviating, more or less clearly of palm. the palm size and width is very high. The fingers size and nails is small. This type of hand is not very good for native.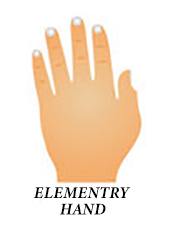 6. POINTED HAND
This type of hand is same as conical hand but the difference of the type and conical hand is fingers. The fingers length is longer than other hands. They signify their joint. The finger tips and knot is egg shaped.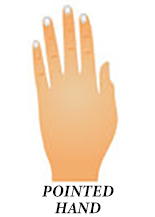 7. MIXED HANDS
This type of hands is mostly every place. this type of hand shape is mixed like square, conical, spatulate. The finger is mixed like two finger shape is conical other finger are joint and squared , very smooth. The palm type is long, short, longer length, shorter width, size is heavy and small. They find to touch hand , feel hand, put hand inside two hand liked sandwich, finger joint touch, nailed and every part of the and see and feel then find type of hands.