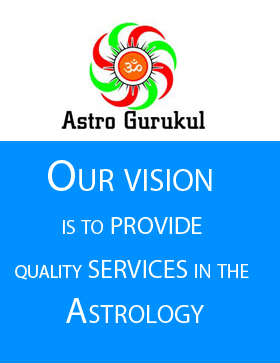 Our vision is to provide quality services in the Astrology with various Astro-Services offered by Astrogurukul span across horoscopes in various types, palmistry, numerology, Vaastu and Indian astrology. These services range from free to reasonable payable services which includes personalized email reports, and Astro-Shopping for products.
Astrogurukul is backed by well qualified and well experienced astrologers. We are not only product or service selling company we are promoting and providing quality Education and logical consultation to the desired person also. So that myths and fear about astrology can be removed, which are propagated by few people for their own profit.

The second motive of Astrogurukul is to highlight the latest research being made in the field of astrology, to promote new and untouched topic among the research scholars.
Another priority is to give eminent astrologers a platform to exchange their point of view, to clear the myths about astrology, its application and its limits.