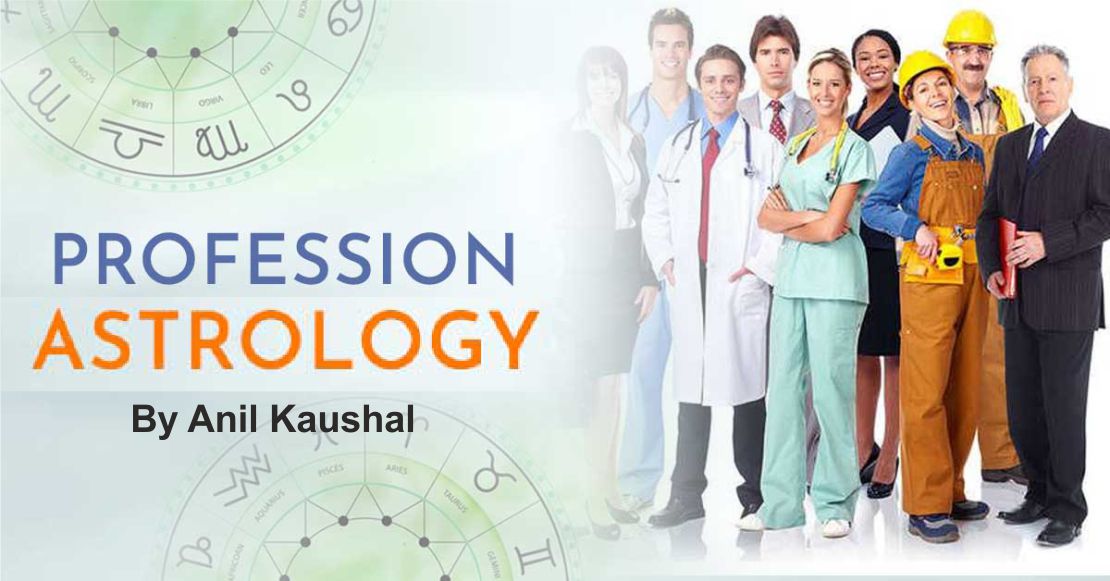 House wise significations
Every house has something to speak on Profession.
House          Significations
Self and personal indulgence in profession.
Bank Account, finance of kutumba and accumulation of Money, family business.
Siblings, friends, energy of the native he uses in his profession, communication skills, short distance, away from home, driver.
House peace, luxury, house of mother, own house, property (commercial of agriculture) and vehicles.
Creativity, risk taking capacity, love affairs, Prarabadh Karma (previous birth deeds, good or bad), suffocation at work place or children.
Your work place, Loan from bank or financial institutes, litigation, maternal uncle, competitive spirit, small diseases, delay in marriage, suffocation in married life.
Opposition, competitor, import export business, spouse and partnership.
Hurdles, insult, quarrels, research, mining, unearned income, bribe income, financial help from father and spouse, loan from PF, Insurance and FDR (personal savings)
House of luck, divine grace, long journeys and long distance.
Prime house of profession, size of profession, name fame, awards and honors in profession.
Gain of profession, job, finance, awards, honors in profession.
Loss in profession, job, loss of work place, penalties, jail, hospital, court, job in Court, jail, hospital, settlement abroad.
KARKA FOR PROFESSION
MERCURY:  MERCURY signifies analytical quality, business, calculations and commercial aspects of business.
SUN:            SUN signifies attitude of the native and authority.
JUPITER:     JUPITER signifies ethical sense of the native.
MOON:         MOON signifies flow of money in career.
SATURN:     SATURN signifies Service attitude and discipline in the native's life, which is an essential part of success and failures and in one's life.
VENUS:        VENUS signifies politeness, creativity and luxury environment of the native profession.
MARS:         MARS signifies aggressiveness and energy level & effective efforts of the native.
RAHU:          RAHU signifies growth of profession, under developing professional environment, smell or pollution when the native is in the profession signified by the SATURN, modern and facilitated environment when in the profession of aviation, computers, electronics, IT, aeronautics or research.
KETU:          KETU signifies undeveloped area and dis-satisfaction or highly precise equipment.
Signs and profession:
Aries: Army and police, surgeon, mechanics, iron and steel workers, firemen, industrialists, guards wrestlers, coal and brick Kiln workers.
Taurus: Luxury goods, jewelry, cosmetics, music, actors, revenue officials, bankers, amusement industry tailors, furs, cement, property.
Gemini: Journalism, teaching, healers, accountants, agents, representatives, P&T deptt., diplomats, stenos and PAs, translators, book-keepers, doctors, solicitors.
Cancer: Naval and marine officers, nurses, fishing, interior decorators, caterers, restaurants, petroleum & chemical industry, shipping department, historians, explorers.
Leo: Politicians, ministers, connected with state, soldiers, ambassadors, chief executives. Sa magicians, professions related to land:
Virgo: Professors, computers, astrologers, book-keepers, reporters, doctors, healers.
Libra: Judges, artists, beauticians, models, photographers, perfumery, fashion designer, air hostesses, receptionists, interior decorators, prostitutes, liaison officers.
Scorpio: Drugs and chemicals, liquids, medicines, insurance, navy & marine, poisons, navigators, doctors, nurses, police and army, explorers, occultists, philosophers.
Sagittarius: Sports. judges, lawyers, preachers, bankers, financial experts, magistrates, capitalists woolen traders, shoe and footwear manufacturers, patriots.
Capricorn: Wood and timber, mining, forests, properties, geologists, minerals.
Aquarius: Advisors, consultants, philosophers, astrologers, intellectuals, engineers, computers automobile experts.
Pisces: Sailors, naval officers, surgeons, doctors, nurses, chemical and oil dealers, perfumery, amusement parks, painters, hospitals, jails, secret societies, prisons.
        Movable signs indicate ambition, fame, recognition. They make one self-assertive, independent, active and so prefer doing profession. The natives are explorers, businessmen, travelers, sportsmen and marketing professionals etc.
        Fixed signs indicate determination, firmness, self-reliance, capable of much patience and endurance, fixity of purpose. The natives are suited for professions which require authority, routine clerical jobs, sedentary jobs.
        Common signs indicate wavering decisions. The natives are servicemen teachers, middlemen, accountants, clerks, writers, cashiers etc.
        Fiery signs provide engineering, iron industries, surgeons, explorers, soldiers, barbers, butchers trade union leaders, politicians etc.
        Earthy signs provide administrative and economic jobs, civil services, property, building, agriculture, furniture, wood and timber related business, food items, mining.
        Airy signs provide intellectual professions like philosophers, writers, scientists, astrologers, advisors, lawyers, jobs of originality & literary pursuits, lecturers, pilots.
        Watery signs provide job of liquids like dairy farming, chemicals & drugs, biology, shipping, merchant navy, marine engineers, petroleum products, fishing etc.;