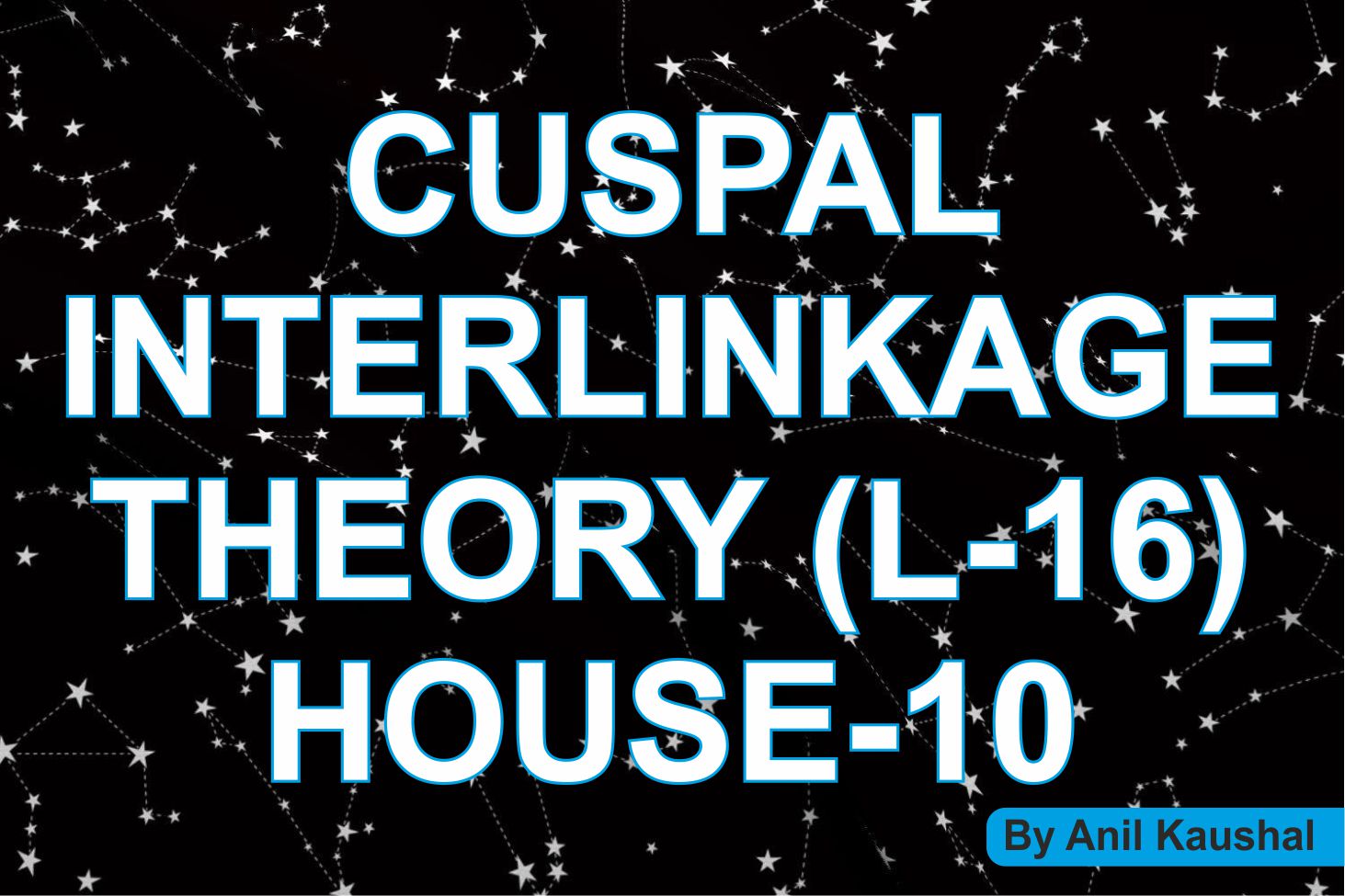 L-16 CIL House-10                                                                                         
Tenth House of any horoscope is also known house of Service or Business. Promotion, Name and fame, Retirement, Voluntary Retirement, Suspension from Service, Compulsory Retirement, Export, Doctor, Problems in business or service, Printing business, legal Practice, Politics as profession, basic education teacher, Higher education teacher, Computer programming.
Sh. S P Khullar, the founder of CIL Theory has given promise in respect of all the 12 cuspal positions. According to him, all cuspal Sub-Sub Lords should justify what is destined for the native in all facets of his life. According to him,
10th Cusp: Status and prestige through profession, honour, dignity and public esteem, name & fame, authority.
Sh R. S. Chaani has very beautifully define the way of promises, we are to see from the different cusps. According to him,
Subjects and Linkages related 10th house.                                                                  
S. No
Subject
Involvement
Commitment
Final Confirmation

(Sub-Sub Lord)

Result
1.
Service or Business
10
6
6
Service
10
7
7
Business
6-10
6-7
6
Service
7-10
6-7
7
Business
10
6-7
6-7
Both
2.
Promotion

6-10
2-6-11
2-6-11
Yes
10
2-6
2-6
Yes
6-10
2-6-10
2-6-10-11
Yes
6-10
2-10
10
Yes
10
2
2-6
Yes
10
2-6-10
11
Yes
3.
Name and Famous
10
1
11
Yes
1-10
1-11
11
Yes
11-10
1-11
1-11
Yes
10
1-11
1-10-11
Yes
4.
Retire-ment
10-6
5-9
5-9
Yes
5.
Voluntary Retire-ment
10-6
1-5-9
1-5-9
Yes
6.
Suspensio-n from Service
10
5-6 (8)
5-6-8
Yes
7.
Compulsory Retire-

ment

10-6
5-9 (8)
5-9-8
Yes
8.
Export
10-12
2-6-11 (12)
2-6-11-12
Yes
9.
Physician
10
2-6-11 (8)
2-6-11 (8)
Yes
10.
Service or Business Problem
10
5-8
5-8
Yes
11.
Publishing Business
10-3
2-6-11 (3)
2-6-11 (3)
Yes
12.
Legal Profession
10-9
2-6-11
2-6-11 (9)
Yes
13.
Politics
10
2-6-11 (9)
2-6-11 (9)
Yes
14.
Basic Education
10-4
2-6-11 (4)
2-6-11 (4)
Yes
15.
Higher Education
10
2-6-11 (9)
2-6-11 (9)
Yes
16.
Computer programming
10-3
2-6-11
2-6-11 (3)
Yes